Family-Building Through Surrogacy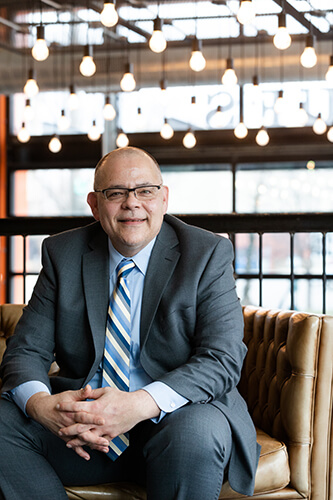 Thomas J. Addesa – Ohio Surrogacy Attorney
There are a variety of reasons why individuals and couples might choose to have children by seeking the help of a woman who is willing to carry their baby. Whatever the reasons, navigating fertility and surrogacy law is a challenging undertaking, and it shouldn't be attempted without the assistance of competent and experienced surrogacy attorneys. Those considering family building through surrogacy will also need to select experienced and competent medical professionals that will guide them through the medical procedures necessary to accomplish their goals.
Artz, Dewhirst & Wheeler, LLP and Attorney Thomas J. Addesa have been assisting Intended Parents and Gestational Carriers through the legal procedures available in Ohio for over 10 years. His experience in helping clients through these processes has helped dozens of individuals and couples achieve their dream of adding children to their families. Mr. Addesa has worked with surrogacy agencies, fertility clinics, and other surrogacy attorneys. He has held a Specialty Certification in family law since 2005 and has been practicing family law in Ohio since 1998. He represents Intended Parents and Gestational Carriers (surrogates).
Do I need a surrogacy attorney?
The laws pertaining to Assisted Reproductive Technology (ART) and surrogacy vary from state to state. An attorney with experience drafting and reviewing surrogacy agreements is an integral part of the surrogacy process. He/she/they will assist Intended Parents and Gestational Carriers in navigating the legal aspects of surrogacy. Surrogacy attorneys draft and review the written contracts so that the parties' intentions are realized and followed. It is essential that a written agreement be completed and signed by the parties involved before medical procedures begin. A surrogacy attorney will help their clients consider and predict unforeseen risks and liabilities that can be addressed in the written contract. He/she/they help make sure that proper legal procedures are followed so that the end result – family building – is achieved as smoothly as possible. It is also important to consider what State laws will apply and retain an experienced surrogacy attorney who is licensed to practice in that State.
Do I need a local surrogacy attorney?
Most, if not all, of the work performed by a surrogacy attorney does not require his/her/their actual presence at any specific location. Their work can be completed electronically through email, telephone, Zoom conferences, Facetime consultations and other electronic forms of communication. Many surrogacy attorneys never actually meet their clients in person, although that can be arranged if it is important to a potential client.
Although there are some surrogacy attorneys who will undertake to represent clients without regard to where the eventual birth will occur, whether this is advisable depends on the particular circumstances. Laws concerning birth certificates and establishing parentage can vary from state-to-state. So, the place where the Gestational Carrier gives birth should be considered when selecting representation. If the birth will occur in Ohio, surrogacy attorneys who are licensed to practice in Ohio will guide their clients through a process that will end with the Intended Parent(s) being named as legal parents on the child's birth certificate, and a judicial determination that the legal parent-child relationship exists only between the child and the Intended Parent(s).
What types of things are covered in a surrogacy contract?
The issues addressed in a surrogacy agreement can vary widely. An experienced surrogacy attorney helps his/her/their clients identify issues that are important to them so that they can be addressed in the written contract. There are some common issues that should be addressed, and they include such things as:
Psychological testing
Compensation for the Carrier
Medical insurance coverage
Life insurance coverage
Travel restrictions/limitations
Fertility physicians/clinics
Number of embryos per transfer
OB/GYN physicians who will treat the Carrier during pregnancy
Hospital planning
When do I need to retain a surrogacy attorney?
Identifying and retaining experienced surrogacy attorneys to represent the Intended Parent(s) and Gestational Carrier (and her spouse, if married) should be done before any medical treatments or procedures involved in the surrogacy process begin.
All parties to the contract should be represented by an attorney. Attorney Thomas J. Addesa can assist in identifying other experienced counsel that can provide representation for the parties his clients will be negotiating with.
Representation for Intended Parents involves two (2) basic stages: the first stage is in the drafting and finalization of a gestational carrier agreement. The second stage begins after the Carrier becomes pregnant. This stage involves coordinating with the physicians and hospitals to ensure that the process moves smoothly and that the health care providers are informed and aware that it is a surrogacy pregnancy. It also includes preparing the necessary documents to present to the appropriate Court so that an accurate birth certificate is recorded, reflecting that the Intended Parents are the child's legal parents, and so that there is a judicial parentage determination designating the Intended Parents as the only legal parents of the child.
Whether you are considering building a family through the surrogacy process, or you are a woman who has decided to become a carrier, Attorney Thomas J. Addesa can guide you through the legal processes available in Ohio. Feel free to contact Mr. Addesa at our office number (614-221-0944) for a free consultation.